Social Security Benefits for Dependent Children of Disabled Parents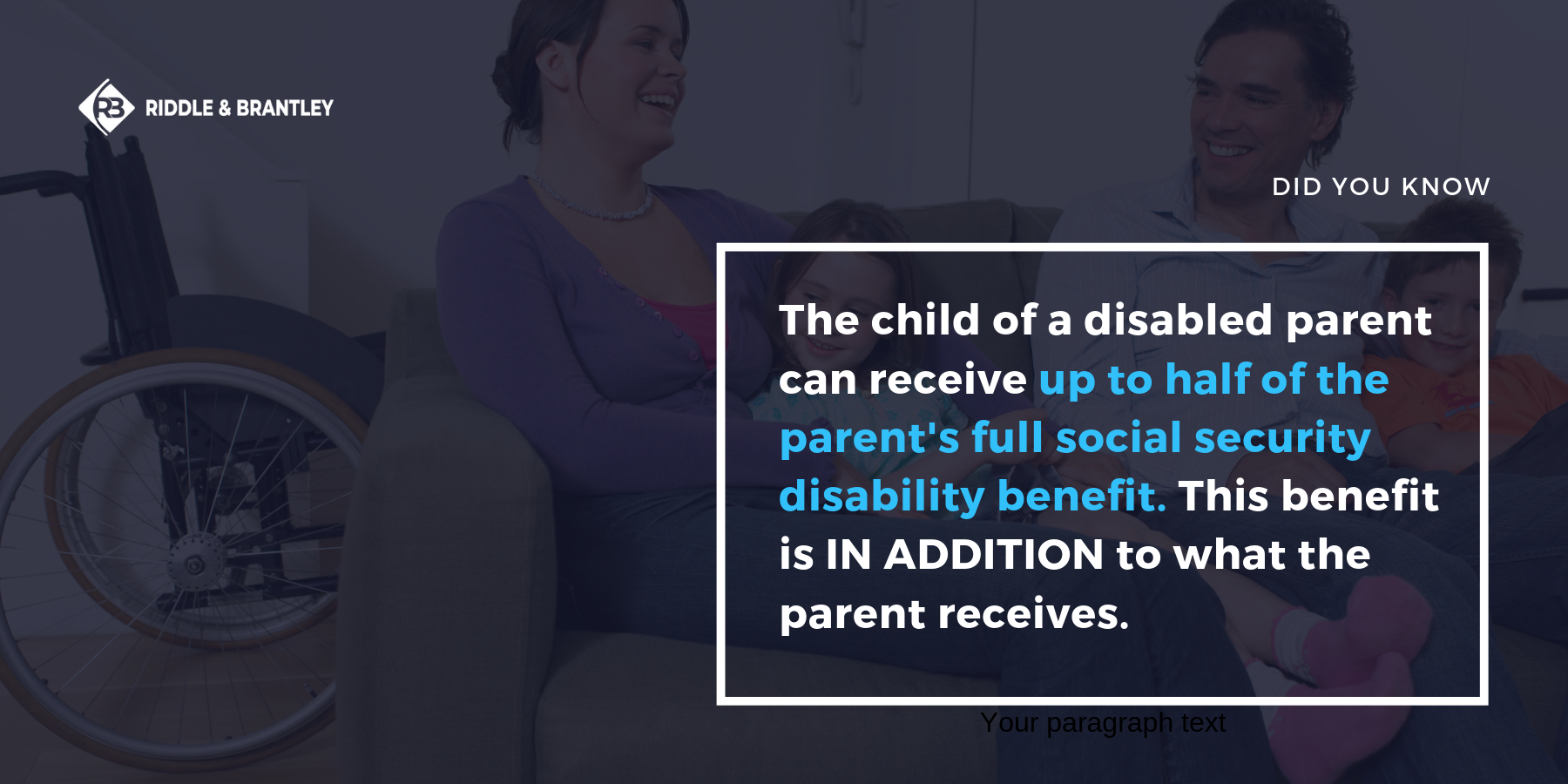 When either parent of a dependent minor child is found to be disabled and entitled to receive Social Security Disability ("SSD") benefits, that parent's children may also be eligible for benefits, whether or not both parents are married or living together, and no matter which parent the child lives with.
Social Security Disability Benefits for Dependent Children: Who is Eligible?
A child of a disabled parent may be eligible for what is called the "dependent benefit" if the child is:
Younger than age 18, OR
18-19 years old and a full-time student (high school up to 12 grade); OR
18 or older with a disability of his or her own that began before age 22
How much can the child receive?
A child can receive up to half of the parent's full disability benefit amount. The actual amount the child is eligible to receive depends on how much the disabled parent paid into the Social Security system during his or her working life.
Keep in mind: the child's social security disability benefit is IN ADDITION TO what the disabled parent receives.
For example, if the parent's monthly disability check is for $1,200, the child could receive as much as an additional $600/month, depending on other variables.
Who actually gets the child's money?
When a minor receives a benefit under the Social Security Act due to a parent's disability, an adult (usually a qualified parent or guardian) is paid the money on their behalf. That person is then subject to strict rules to make sure the money is used to benefit the child.
What about Supplemental Security Income ("SSI") for dependent children?
The rules are different for recipients of SSI.
Eligibility for Supplemental Security Income is limited to individuals with little or no income or property who nevertheless qualify as "disabled" as that term is defined by the Social Security Act.  Most SSI beneficiaries have either never worked outside the home, or not worked in many years.  The monthly benefit available to an SSI recipient is capped at $771 for year 2019 (that amount increases slightly every year based on cost-of-living increases) for a person not deemed to have any income at all.  The actual amount a person receives may be lowered if the person is deemed to have certain types of income.
Unlike Social Security Disability (SSD), even if a parent is deemed eligible to collect Supplemental Security Income (SSI), his or her children do not receive any dependent benefit just because the parent is disabled. However, if the child is found to be disabled, then the child may qualify for SSI benefits on his or her own.
Questions About Social Security Disability Benefits for Dependent Children?
These rules are complicated, and your specific situation may include "wrinkles" that make this information inapplicable to your situation.  If you or a loved one is disabled and have questions about SSD benefits for a dependent child, consult with a knowledgeable and experienced social security disability lawyer.
Scott Scurfield is a Raleigh social security disability lawyer at Riddle & Brantley. In addition to leading the social security disability team, Scott also represents clients in VA benefits, personal injury, motor vehicle accident, and premises liability cases throughout Raleigh and North Carolina.